https://muddysbuddies.com/wp-content/uploads/2018/03/Muddys-Buddies-1.png
896
2108
sandy
https://muddysbuddies.com/wp-content/uploads/2013/02/Muddy_s_Buddies_Final_Logo_2012.png
sandy
2018-03-07 15:25:51
2019-10-02 18:33:55
Muddy's Buddies Spring Soirée and Benefit
Now, I am not sure where to start. Should I talk first about the Annie's Kids fundraiser that brought in nearly  $40,000 with over 200 guests?  Or should I talk about the explosion of Muddy's Buddies numbers, such that now there are 27 Buddies who have been hooked up with teams and clubs?
Don't tell me…
Well, the Annie's Kids party just happened on March 16 and so lem'me tell you how crazy that was.  Ann K. Reddington was the coolest woman and she died unexpectedly and tragically a year and a half ago. She was all about all kids and she also had a slew of her own kids. Well, her own kids wanted to do something for all kids in her memory.
So, Meg Reddington, one of those kids, hooked up with the MB team and wanted to raise some cash for the Buddies and their families. She brought together some serious talent, like Mike Calabrese who started that swanky place, Good Luck, the restaurant near Village Gate that everybody goes to.  And Jenny Ralph and Amy Ryan, too. They all know how to throw a fantastic party.
So, Mike C. and his Good Luck staff passed the most delish of appetizers and made drinks at the bar. I did not know what to do first—there were some sweet frostys on the tap, but also there were freaky good libations, (if you know what I mean). The apps were good, but there just wasn't enuf time to get to 'em all.
Over 200 people showed up, and then they had some auctions of stuff like: dinner for eight at Black and Blue. ?!?!  Mike C. and his crew also offered dinner for eight at his place, too. Then, Rick Reddington, who is, like, the King of Napa Valley was giving away dinner for like twelve.  I am not sure who won those dinners, but I want each of you to know, that I am available… whenever. You can call me or text me any time.
All together they raised about $40, 000 for the Muddy's Buddies.
That dinero will go to the Buddies and their families. Now, there are 27 Buddies who have been connected with high school and college teams and clubs. Not only are the there teams like Aquinas  Football ( I hear they're pretty good), teams from Victor, Byron Bergen, Brighton, and Churchville-Chili, but there are also dance clubs from U of R and Nazareth, and, even, the Art Club at Allendale-Columbia. The great Muddy himself would be proud 'cuz he used to teach and coach at Allendale-Columbia , and he thought doing anything athletic, artistic, or otherwise, was cool for cats.
Stephen Lawrence, (we are not supposed to call him "Chopper") who started the MB project,  said he and Meg R. and Mike C. all were in first grade together. I'm not sure what that means exactly, but I would want any one of them on my side in a fight.
Meg was impressive and inspiring when she spoke about her mom. She said she remembered her mom when old friends smiled or when people said "aren't we having the best time?" I remember Annie K. as the mother every body wished for.
Chopper, er… Stephen,  was also inspiring when he talked about how MB had helped 27 Buddies, but also had helped 27 communities grow up and "support, befriend, and love one of their own"  Chop said that idea brought tears to his eyes and made his hair stand on end. Well, I might have had tears in my eyes, but if my hair was standing on end, well,  that's because I  wanted it to do that. (ya know what I'm sayin'?)
And don't forget the MB Lax Festival is coming up fast. We're looking at two Sundays again, May 4 and May 18.
https://muddysbuddies.com/wp-content/uploads/2013/02/Muddy_s_Buddies_Final_Logo_2012.png
0
0
Stephen Lawrence
https://muddysbuddies.com/wp-content/uploads/2013/02/Muddy_s_Buddies_Final_Logo_2012.png
Stephen Lawrence
2014-04-25 11:51:10
2014-04-25 11:51:31
Muddy's Buddies Wins Again!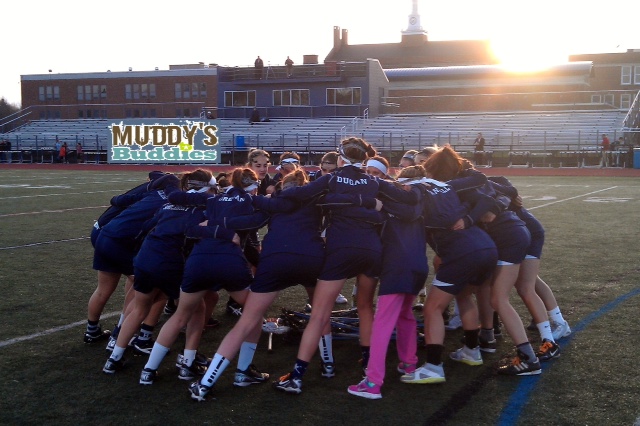 June 3rd, 2013
It's a funny position having our end of the season lacrosse banquet before the end of the season but I don't think anyone minds this year, I sure don't. Because of our success together, we were able to win a sectional title this year and are fortunate to head to the state tournament this weekend. I think we owe a great deal of our success to Kassidy (our buddy). This year we focused a lot on our mental toughness as a team and Kassidy made that mental "push" so much easier. When I think of Kassidy being on our team this season a few instances come to mind. After our Pittsford game when we lost by 1, is when the mental aspect of our game really came into play. The team received a text from Kassidy shortly after the LONGG bus ride home and it said, "Even though we lost, you guys Rocked! Don't let this one game bring you down! KEEP PUSHING (All Caps!) and leave the past behind." This was not the first time Kassidy helped push our team but it surely wasn't the last.
In the beginning of the season when Kassidy first joined our team and learned about the little treats the captains put in everybody's bag in the locker room before every game (usually a single wrapped candy of some sort)- Kassidy decided to show us captains up and put a large pack of Starburst in everyone's bag- So Thanks Kassidy…. I guess it's go big or go home!!!
We have a joke on our team that Kassidy has a later bedtime than Kenzie because after we beat Canandaigua the other night, Kassidy came to Hungry's with the team for Garbage Plates but Kenzie didn't. (Kenzie takes my jokes about being in 8th grade almost every day, she knows we love her). Kassidy gave the seniors a rubber duck before our sectional finals game last week with a graduation cap on its head. I was thrilled she gave me something I could continuously squeeze the life out of on our way to Eastridge, attempting to release my unbelievable amount of nerves. Luckily it's a short drive though because that duck squeaked every time I squeezed it. .. loud. My teammates around me on the bus were definitely annoyed but I was more thankful for that thing than she thinks.
Kassidy was someone we played for, someone we wanted a sectional title for more than ourselves and I know Kassidy wanted it for us. So Thank You Kassidy, thank you for being such a joy to have around and for pushing us to be the best we could be, we hope you can skip school and come to states with us! We Love you!
Love, The Captains
Written by Carly Randall with help from Meaghan Bowen and Lauren Smolensky – Brighton Girls' Lacrosse Captains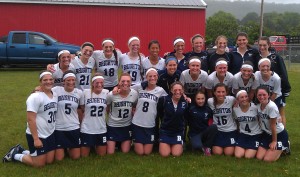 https://muddysbuddies.com/wp-content/uploads/2014/03/Muddys-Buddies-Brighton-Girls-Lacrosse-small-1.jpg
426
640
Stephen Lawrence
https://muddysbuddies.com/wp-content/uploads/2013/02/Muddy_s_Buddies_Final_Logo_2012.png
Stephen Lawrence
2013-07-04 16:02:01
2014-08-08 12:47:48
Kids Helping Kids… It's a Two Way Street